Knives & Daggers (Asheville, NC) is a dynamically turbulent, noisily emotional blend of shoegaze and heavy-riffed post rock. Three guitars take turns with rhythm and lead, drone and echo, and carefully composed harmonies, sometimes accompanied by classical string instruments. The five-piece is completed with a drummer and a bassist, who gracefully assemble the rhythm through the tangle of guitars.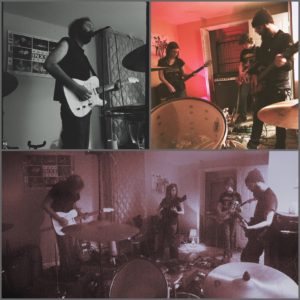 The band, which first materialized in 2006, has come out of its longest hiatus to-date to release its second album "Keeping" on June 23, 2017. The gritty and guitar-heavy album was recorded mostly in 2013 by Telecine's Andrew Larson, its final mixes collecting digital dust for over two years as the members separated and pursued other interests. In late 2016, the band reunited with plans to master and release the long-unfinished album, as well as to resume playing the occasional string of shows.
K&D is fronted by two independent songwriters and guitarists, Lauren Carol Brown and Kevin Stanford, who hail from notably different musical backgrounds and influences – Brown from the orchestra and loud instrumental projects, and Stanford from reflective, guitar-oriented shoegaze bands – but there is a symbiotic thread between the two backgrounds which brings consistency to the K&D sound.
Brown and Stanford are joined by drummer Jonathan Bass, guitarist Sam Hunt, and bassist Jeremy Joachim, a lineup which elegantly and vigorously supports the massive sound that the band is becoming recognized for.
The first album, the bittersweetly dark What Hurts the Most, was released in 2011.