We're baaaaack.
This Saturday, November 19, we're playing our first show in over two years — with Bask and Shallows — at Broadways in downtown Asheville. Check out the flyer, drawn by our bassist Jeremy Joachim: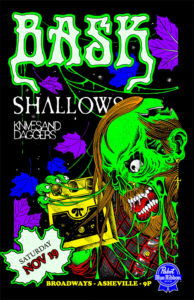 We go on first. There's also a Facebook event page with more info: https://www.facebook.com/events/981961751913611/
In other news, our second album — which we began recording maybe late 2012 — is done, but not out yet. We'll post more on that later when we know a release date.
It's been a long time and we'd love to see you at our show!